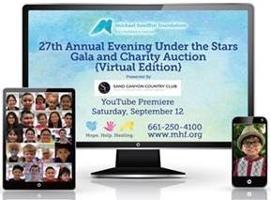 Hurry! The MHF Gala Online Auction is Open, But Will Be Closing This Saturday, October 3rd!!
The 27th Annual Evening Under the Stars Gala - Virtual Edition is now open. The auction will run from September 12, 2020 to October 3, 2020, with proceeds going to MICHAEL HOEFFLIN FOUNDATION in order to support local children and their families dealing with pediatric cancer.. Auction items range from artwork, experiences, memorabilia to hundreds of donated items guaranteed to delight and surprise. So, tell your friends, family, community. Let the bidding begin!
Make Your Bid to Support the Michael Hoefflin Foundation!
Now is your chance to not only get all the great items you want, but to do it knowing you are helping support our organization and mission. For over 25 years, the Michael Hoefflin Foundation has provided individualized, caring support that addresses the various ways in which life is disrupted for local families facing a pediatric cancer diagnosis. We provide financial, social and emotional support to our local families dealing with this terrible disease. The aim of the Michael Hoefflin Foundation is to ensure that families have what they need so their child can concentrate on getting well.