Donate Cash
Top Bidders
asafe9115

$2,480

kd33b6f22

$2,250

msa6d8d59

$1,525

sr4f0034d

$1,500

mnccf5d8d

$800

lse4b7026

$795

mub2b07d8

$670

lb5317c51

$530

jc35cce48

$390

ebc7686c5

$305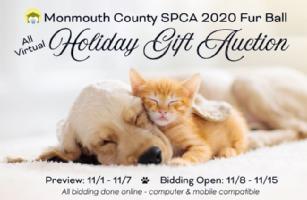 Welcome to the 2020 Fur Ball! Like so much else in our world right now, our event looks a bit different this year. Ultimately, the goal is the same: raise money to care for animals in Monmouth County who need our help. While we will miss dancing the night away with our friends and supporters, we are thrilled to be able to host Fur Ball's very popular Silent Auction right here instead!
Live bidding from November 8th at 5pm EST and closes November 15th at 5pm EST!
We hope the amazing items we've gathered thanks to our incredible donors and sponsors are as exciting to you as they are to us! From baskets stuffed with treats and gift cards for your favorite local merchants to unique travel packages and extremely rare music and sports memorabilia: this auction truly has something for everyone.

The MCSPCA is endlessly grateful for your dedication to the animals we rescue, especially in a year like this one. With things changing all around us, it is humbling to know one thing will remain the same: we can always count on our supporters to help in whatever way they can.

Don't see anything you want to bid on? You can still help!

You can easily share via your favorite social media outlet! Look for the Facebook, Twitter and email icons on the top right of every page.
Need to register to bid?
On Mobile: Choose the Register button at the top.
Desktop: Go to Bidding for Good OR register at the top of this webpage! Choose bidder in the top-left corner of the page. Next, choose the Register button on the right side of the page and complete the form. Make sure to fill out all information asked on the form completely.
Need to login?
On Mobile: Choose login at the top.
Desktop: Log into your bidder account on Bidding for Good by choosing bidder in the top-left corner of the page. If you are already signed in, you will see the page saying "Welcome (Your name)". to bid
Featured Items! (Scroll up to view all items)