Top Bidders
khdd74548

$612

et917d34b

$515

ea9beb018

$440

mmaa394b5

$360

tj73cd746

$340

hdd12488f

$325

de5209d7d

$270

sl565b703

$255

sp64e1708

$250

awa2bcd04

$200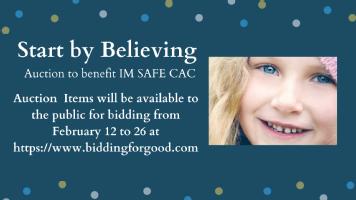 The Ionia Montcalm Secure and Friendly Environment Child Advocacy Center is getting ready to run an online auction fundraiser.
Starting on February 12, 2021, the IM SAFE CAC will be auctioning off a number of fun and unique items to bid on to raise money for our organization - and the more items we have the more money we can raise, so we're asking for your help.

Show your support by clicking on the "Donate Items" button to contribute to our catalog.

Give a little and get a lot in return.
Whether you have 1 item or 100 to contribute, your participation is an invaluable part of our fundraising efforts. By donating an item or service directly online, you'll be helping to raise money for our organization, and you'll receive a mention on our site that can link back to your own web page.
Become a Sponsor Today for $150 donation.
Place your company's logo on our site that links back to your own web page and you could develop new business. We can track how often your logo is viewed and clicked to see just how many people are accessing your site.