Donate Cash
Auction Links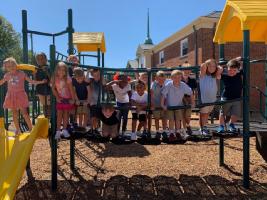 MayFair starts May 3, 2021! Trinity Lutheran School is offering a unique collection of items and experiences to benefit our Annual Fund-- specifically, technology for teachers! Our goal is to supply every member Trinity's hardworking faculty with new Macbooks to help them as they continue to provide exemplary instruction to every student, whether in the classroom or online. Check back often, as our auction grows... and please join us on May 15 for an online program to celebrate our school!
Trinity Lutheran School in Newport News, Virginia has been in the business of "educating hearts and minds" since 1960... but this is our very first online auction! There are many ways for you to participate:
Place your bids! Bidding opens May 3.

Make a donation to this year's Fund-a-Need, Technology for Teachers!
Buy raffle tickets for an overnight stay at The Jefferson Hotel in Richmond, valued at over $400! Tickets are $5 each.
Trinity's Annual Fund provides learning resources, technology, tuition assistance, and more for our students each year. Thank you for your support!
Live Event Details
Join us here for a short program highlighting the Trinity community-- who we are, what we love about Trinity, and why we support the Annual Fund.
Bidding will remain open after the show! The auction will close at noon on Sunday, May 16. Raffle tickets for the Jefferson Hotel Overnight will be on sale till then, too.
A drawing for the raffle winner will be held LIVE on our Facebook page on Monday, May 17.
Thanks to our sponsors!
The Wessler Family