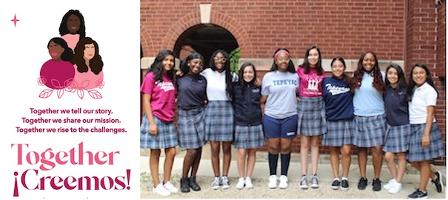 Our Lady of Tepeyac High School online auction closes Friday, April 16th @ 10:00 PM.
¡Creemos!, We Believe!
Starting on April 5, 2021 at 10:00 AM, Our Lady of Tepeyac High School will be auctioning off a number of fun and unique items to raise money for our school.
ALL ITEMS MUST BE PICKED UP OR CAN BE DELIVERED WITHIN A 40 MILE RADIUS OF THE SCHOOL.
The 26th annual ¡Creemos! We Believe! benefit for scholarships will be held virtually again this year, culminating with an online celebration on Friday, April 16, 2021.

The COVID-19 pandemic has brought new challenges for all of us, but more so for Little Village and the surrounding South Side Chicago communities. Sixty-three percent of Tepeyac families have experienced a reduction in hours or have lost a job, instigated by this health crisis. Families who were struggling before, are in need of our assistance now more than ever. Tepeyac has accompanied our girls as they struggle to overcome the new obstacles that they face. We have provided meals, groceries, and PPE over the course of the past year, all while continuing to offer a robust academic education and an emotionally supportive, mission-driven network for our girls.
Despite these hardships, Tepeyac girls excel.
*100% of seniors have been accepted to colleges and universities around the country
* $6.73 million in scholarship dollars have been awarded
*We continue to support our alumnae in college, especially the Freshwomen who have started this new experience online.

This year, Tepeyac will raise approximately $597,000 to support the financial aid needs of our girls and their families, accounting for 39% of our total operating budget and representing a $100,000 increase over the last school year.
Help us meet our goal by bidding on our amazing auction items!
Together, we tell our story.
Together, we share our mission.
Together, we rise to the challenges.
Together, !Creemos! We believe!