Auction Links
Top Bidders
jf12d4696

$1,650

lc2a943f3

$1,450

as70d7fbe

$1,231

eha79a18b

$950

mb1b72f5a

$692

plb594510

$485

ibd6deec89

$405

eheb1f035

$405

dw8b08212

$375

asb940ec4

$365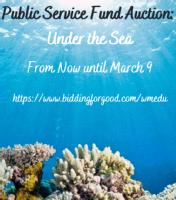 The Online Auction is Open!
The Public Service Fund Auction 2021, Under the Sea is now open. The auction will run from February 16, 2021 to March 9, 2021, with proceeds going to William & Mary Law School in order to students in unpaid public service internships over the summer. Auction items range from fun professor activities to donated items guaranteed to delight and surprise. So, tell your friends, family, community. Let the bidding begin!
Join us for our virtual Auction Week from March 5 to 9, 2021!
Mar. 5 at 7 pm: Virtual Murder Mystery - Set Sail for Disaster
Mar. 6 at 9 pm: Virtual Bingo
Mar. 7 at 11 am: Virtual Yoga Class
Mar. 7 at 6 pm: Virtual Barre Class
Mar. 8 at 6:30 pm: Italian Night Cook-Along with Professor Combs and 3L Yasmine Palmer
Mar. 9 at 7 pm: Trivia hosted by Nick Armah
You can choose to attend all events for a discounted price of $25 or attend one or more events for $5 each event. Buy your tickets and reserve our spot on our Google Form today!
Support William & Mary Public Service Fund!
The Public Service Fund is a student-run organization committed to supporting law students who provide important legal services to the underprivileged through summer public service and public interest internships. We provide stipends that allow law students to work in unpaid summer jobs in a variety of areas, including child custody, domestic violence, environmental protection, state and local government, and public defense. These students advocate for individuals who are unable to speak for themselves and provide services specifically in Virginia, as well as all over the country. We host several events during the school year to raise funds to support our mission, and Auction is our biggest one! Now is your chance to not only get all the great items you want, but to do it knowing you are helping support our organization and mission. Support PSF by making a bid or a monetary donation today!
Please feel free to reach out to us at publicservicefundauction@gmail.com with any questions!