Donate Cash
Auction Links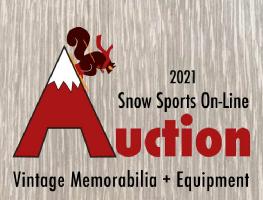 Vermont Ski and Snowboard Museum Snow Sports Online Auction: Coming Soon!
Starting on April 5, 2021, the Vermont Ski and Snowboard Museum will host an online auction featuring vintage and unique items to raise important funds for our organization. The auction will run until April 14, 2021.
The items available in this auction have been donated to VTSSM for this purpose and are not part of our collection.
As a nonprofit organization, we rely on the generosity of our members, donors, and event attendees. These items make great gifts, additions to your collections, or inspired home decor. Bid high and bid often to help us continue to collect, preserve, and celebrate the rich history of skiing and riding in Vermont.
Thank you for supporting the Vermont Ski and Snowboard Museum!
Shipping to US addresses only. International shipping available at the winning bidder's expense.
Please note that a selected few items are available for pick up only.
Check out these featured items! Vintage and rare!