We're Open for Bidding!
NRWA 2021 Holiday Online Auction Runs Now thru December 3, 2021!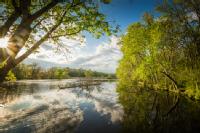 Let the bidding begin!
Our team has been busy gathering and curating a delightful collection of items and services for our catalogue. We have Celtics basketball and UMass Riverhawks ice hockey tickets; holiday decor; artisan pieces from a hand-dyed silk scarf to wood turned bowls produced from a maple tree in Groton; locally roasted coffees and small batch chocolates and granolas; vintage and fine jewelry; services from car detailing to chain sawing to bicycle tuneups; antique and vintage china; indoor golfing, a kayak, and an antique canoe paddle; and much more.
Our Auction ends at 1:00 p.m. on Friday, December 3rd. For sixteen days you can explore our catalogue and bid on exciting items and services. It's fun, it's convenient-- you can bid at any time, from anywhere--, and it's important. The proceeds from our Holiday Online Auction support the vital work of the Association, to protect our water, our land, and our communities.
The NRWA is a regional leader in environmental protection, working in 32 communities in north central Massachusetts and southern New Hampshire. Learn more about our mission.
How can you help? Browse our catalogue, find a great gift or something special for yourself, and place a bid. Be sure to signup to receive Email Updates. Encourage friends, family, and co-workers to participate too by sharing the link to our auction on launch day, or by using the Refer Friends feature. A successful auction is based on great items, moreover, it's about lively and active bidding. The more the merrier!
Thank you!