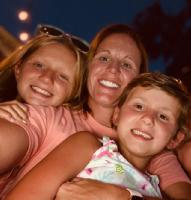 Live Like Madison
"Playing FORE a Cure!"
Round 2 of the Live Like Madison Golf Tournament and Silent Auction is now open. The auction will run until October 16, 2021, with proceeds going to Live Like Madison in order to support finding a cure for pediatric cancer. Auction items range from vacation getaways to donated items guaranteed to delight and surprise. So, tell your friends, family, community. Let the bidding begin!
MADISON'S STORY
Many of you are familiar with Madison's story, and many of you, unfortunately, have similar stories to share. Cancer has forced its way into our families, and has taken our "normal" away.
Madison should have been looking forward to finishing up her second grade year. But cancer never let her finish first grade. Madison should be riding her bike around the neighborhood, but cancer took her right femur and her ability and strength to push her bike pedals. Madison should have been laughing and playing with her friends, but my little girl was robbed of the friendships she was just starting to build.
Cancer steals and it stole so much from Madison. It took away her feeling of safety and her independence. It took away her childhood and her dreams of the future. We lost memories we will never get to cherish. But cancer never stood a chance against Madison's spirit or her smile. She continued to make others laugh and despite the pain she was feeling, she invented ways to help other people.
Madison's battle with cancer ended December 21, 2019, but the fight she started to help others continues. I made a promise to Madison to make her proud and to never stop looking for a cure. I promised her I would live my life exactly how she lived hers.
Laura, Madison's Mom
#livelikemadison
LIVE LIKE MADISON MISSION STATEMENT
Live Like Madison, Inc. is dedicated to raising funds for pediatric cancer research, supporting children and families impacted by the disease, and building awareness in communities through education and events.
Make your bid to support
Live Like Madison!
Now is your chance to not only get all the great items you want, but do it knowing you are helping support our organization and mission.