Live Event
Sun May 15, 2022
12PM - 3PM EDT
Donate Now
Save the date for SPRINGFEST 2022!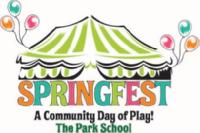 SPRINGFEST
Park School * 171 Goddard Ave.
Sunday, May 15, 2022 * 12PM - 4PM
$20/ticket/individual
Ticket purchase includes ALL RIDES and ALL GAMES!
Tickets are complimentary for Financial Aid families. Please email financialaid@parkschool.org to reserve your tickets.
Buy your admission and kids' raffle tickets now!
The countdown to Springfest is on! Mark your calendars for Sunday, May 15 from 12 p.m. - 4 p.m. Rain or shine event!
Springfest is around the corner, and we need your help to make our community day of play a success! Please click here to volunteer for a shift. There is an expectation that every family will contribute time. Thank you for honoring Park's tradition of volunteering!
Click HERE to learn what your support funds. Please consider donating to this wonderful event and to supporting the Park Parents Association.
Contact Springfest co-chairs Eliza Quincy, Kelly Herrera Surnamer, and Maggie Leffler with any questions.
THE SILENT AUCTION is the Parents' Association's biggest fundraiser of the year and relies upon generous donations from the community. The goal of the Springfest Silent Auction is to raise $70,000 for our 2023 PA budget while building community. This year, the Springfest Silent Auction will run online from May 8th to May 15th at 9pm with the Springfest Tent showcasing the items up for bid. Donations will be accepted through May 8th. Please contact auction co-chair Anita Fink with any questions, or click here to donate online. Click here to learn what your support funds.
KIDS' RAFFLE is always a Springfest highlight! If you have questions, please contact raffle co-chairs Andrea Chiang, Elizabeth Dunn, Adrienne Flight, and Sean May. To buy raffle tickets, click here.