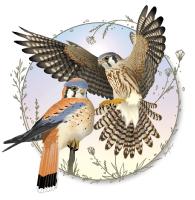 Welcome to the Party!!
Thank You!
You came, you saw, you bid, and the Raptors Win!
We are very grateful to all of you that participated in this years auction. We are busy tallying up the donations and income from auction items. Check back to learn how much income the fruits of your labor has provided for the raptors.
How to acquire your newly purchased loot
You've been a great bidder! You helped the RMRP raise much needed money to continue our mission. Now you want to enjoy the fruits of your labor. Here is how.
Because it takes some time and concentration to close out each items on the digital platform we aren?t able to let you take your winnings home with you on the night of the auction. We want to make sure we don?t charge you for something you didn?t win. The credit card you have on file with the Bidding For Good application will be charged with your donations and winning bids over the following couple of days, February 27th and 28th. An e-mail will be sent to you at that time with your final total and items won.
Your items will be available for pick up at the RMRP at the following times:
Friday, March 4 from 11am to 5pm
Saturday, March 5 from 10am to 5pm
Saturday, March 12 from 10am to 5pm
Item pick up is at the Rocky Mountain Raptor Program (RMRP) at 720 B E. Vine Dr., Fort Collins, CO. 80524. Our facility is on the north side of Vine drive between College Ave, and Lemay. Please pull up to the buildings western most garage door. If the garage door is not open, please knock on the garage door, and we will open it to greet you. Provide us with your name and we will gather your items for you.
If you are not able to pick up your items at the above listed times, please send an e-mail to Lisa@rmrp.org and we are happy to arrange a different time.
Some of the small items in the auction may be available for shipping. All items in the catalog will have a shipping or no shipping icon in the item descriptor. Nothing large, heavy, fragile or framed will be shipped. If you have purchased multiple items, if any of them have the no shipping icon then you will need to pick up all items at the RMRP. It is preferable to have all items picked up at the RMRP. However, if you would like your items shipped, and your item is available for shipping, we will apply appropriate shipping charges to your final bill and your items will be sent via US Postal Service. Please note that shipping is expensive. These charges will run between $9 and $35 and possibly more, depending on the size of the item.
We will not automatically ship your items. You will need to send an e-mail to Lisa@rmrp.org to let us know if you want your items shipped to you.
Some of your purchases and your donations may be tax deductible. We will provide you with a letter indicating the value and the price you paid for the items you have purchased for your tax records. Please seek the advice of a tax advisor.
You have made a difference. Your bids and purchases have provided the funds to save more raptor lives, educate more human minds, and inspire more hearts to care for these beautiful winged wonders. Thank you!
Terms of Sale
Unless otherwise noted, all certificates for goods and services must be used within one year of the auction date. All items and services are subject to the terms and conditions specified by the donors.
All sales are final. There will be no exchanges or refunds. The Rocky Mountain Raptor Program (RMRP) does not make any express or implied warranties or guarantees on auction items regarding quality or value of items or services. All items are offered and sold "As Is" and "With All Faults".
The RMRP neither warrants nor represents, and in no event shall be responsible for the correctness of descriptions, genuineness, authorship, provenance or condition of the items. No statement made in the catalog or made orally at the auction or elsewhere shall be deemed such warranty for tax purposes or market value. Items have not been appraised unless otherwise noted.
Reservations for trips or vacation accommodations, and any services, must be mutually arranged with the donor, unless otherwise noted. No refunds will be allowed on travel packages for cancelled tickets and/or accommodations.
By the buyer's purchase, the buyer waives any claim for liability against the RMRP, its appointed officials, members, employees, sponsors, volunteers and/or donor of the item. Neither the RMRP, nor the donor, is responsible for any personal injuries or damage that may result from the use of the property or services.
Tax Rules

Appropriate sales tax will be assigned to taxable items. The amount you pay in excess of the fair market value would normally be available to you as a charitable contribution for tax purposes. Please check with your tax advisor for specifics. The RMRP will provide documentation of fair market value/charitable contribution after the raptors have dealt with the data crunching, post auction.
Live Event Details
Sat Feb 26, 2022
5PM - 9PM MST
Fort Collins Hilton
425 W. Prospect Rd. Fort Collins, CO 80526
Add to My Calendar
Get Directions
We are excited to announce the 2022 Gala Dinner and Benefit Auction will be both online AND in-person!!! Ticket sales are now closed. Please join us online!
Since COVID is a concern for many of our supporters, we are having a hybrid event on February 26th, 2022.
MASKS AND PROOF OF VACCINATION WILL BE REQUIRED FOR ALL ATTENDEES.
You can attend online or in-person. The in-person event will be capped at 300 so the event space will be roomy and everyone will have plenty of space to social distance. Bidding will be available online, and bidding at the event will be on your smartphone.
Can't be there in person?
Remember that bidding will be available right on this page, and the full program will be broadcast on our YouTube Channel.