The Stadium Theatre Online Auction for the Arts is now open for bidding!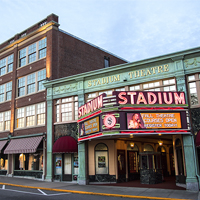 Our online 2023 Auction for the Arts is now open and ready to accept your bids!
The online Auction will be available for bidding from June 1st through June 17th at 5PM. Browse our items and bid securely through Bidding for Good via your computer or mobile device from the comfort of your own home. We hope this provides a fun way to pass the time while supporting the Stadium Theatre!
If items are purchased online that cannot be shipped, they will must to be picked up at the Stadium Theatre between 9AM and 5PM, Monday through Friday. Please see the "Special Instructions" section of your item for delivery specifications.
We sincerely appreciate your support!
Thank you to Kay's Restaurant, our Premiere Sponsor of the Auction for the Arts!