Our Hesby Casino Royale Online Auction is Open!
Welcome to our Casino Royale ONLINE AUCTION!
This is PUBLIC, anyone with our link can bid- so feel free to send it to your friends and family who might not be at Hesby. Here's the link! https://www.biddingforgood.com/HIP/online2023
This is different than the silent auction at our Gala on March 25th.You will be able to bid on exclusive items at the Gala.
If you want to attend the Gala, please go to https://bit.ly/3Kn4Fdg.
Here, we are auctioning off many wonderful and exciting items to benefit our Los Angeles Unified School District public school, Hesby Oaks Leadership Charter.
There is something for everyone on our silent auction that opens March 11th at 8:00 am and closes March 18th at 11:59pm...
Toys for kids and designer products for adults.
Dining and trips.
Summer camps.
Exclusive cabins.
Sports tickets and live show tapings.
Bid often!! Bid a lot!!
___________________________________________________________________
SHIPPING, PICK UP AND OTHER SPECIAL NOTES for Winning Bids:
LOCAL PICKUP will happen at HESBY OAKS LEADERSHIP CHARTER (15530 Hesby Street, Encino, California 91436). Items that CANNOT be shipped due to size or the location of the business providing the services will be noted in the listing.
Hesby Oaks parents, we ask that you take advantage of the pick-up below.
Pickup dates will be March 28, 29, 30, 2023 at both drop off from 7:55-8:30am and pick up from 2:00pm-2:45pm.
SHIPPING of non-paper items will be paid by buyer. Actual shipping cost, including the cost to pack an item will be added to final sale price when item is shipped. Insurance will be added to items with a value above $100 at additional cost, if shipped. Tracking numbers will be provided for shipped packages upon request.
MAILING GIFT CERTIFICATES We will mail certificates and gift cards to the winning bidder via USPS (WITHOUT tracking) where the individual value is below $100. If a bidder wins several items they will be mailed together.
We have done our best to represent all items accurately and give the bidders as much information as provided to us by the original donors. We regret any typographical errors and do our best to rectify any problems caused by them.
Items are sold as is. No exchanges and no returns unless specifically noted on an item that the original donor will allow this.
Make Your Bid to Support Hesby Oaks Leadership Charter!
Our students, parents and staff thank you for your generosity to the education of our students!!!!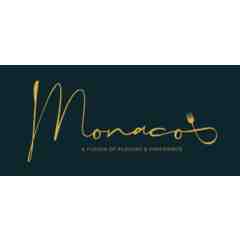 Yosef Benelisha/Monaco Restaurant
Check out these featured items available on the online auction!