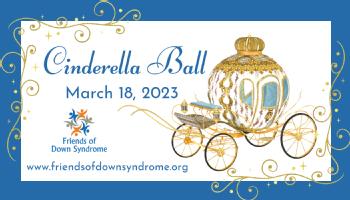 Welcome to the 2023 Cinderella Ball silent auction!
Thank you for joining us at the 2023 Cinderella Ball hosted at the Hilton Houston North Hotel. We are excited to have you here and thank you for supporting Friends of Down Syndrome. Our goal is to raise $250,000 dollars this year and we can with your help. View all our wonderful items and help us reach our goal!
*Any items that are purchased outside of the event, please let a family or friend know and they can acquire your purchase. If the item will need to be shipped, the winning bidder will need to help cover the costs of shipping.
2023 Sponsors
Underwriters $10,000+
Pandell Team Darien
Enchanted Castle $5,000+
Matt Makaila The Hagan Family Camp Construction
Golden Carriage $3,000+
Mobius Risk Group George & Mary Parnham SPJST Lodge
Glass Slipper $1,500+
George & Bertha Castillo Michael & Kelli Sliepka
Gabriel Sanchez & Raymond Valdez Karen & Cory Evans
Linda Avedon The DaPra Family Randall Brown
The Gifford Family The Keen Family The Ortega Family
Jerry King Rosa Pollard & Friends Bunco Babes
Lina Fernandez & Family Diane Jones Melanie Murphy
Cliff & Cina Garza Team Darien
Magic Wand $500+
The Stewart Title Foundation The De La Mora Family
Reginald and Lei Smith Jennifer Rising Mona Mortazavi
Beckwith's Car Care Elaine Finger Theresa Gaitan
Tommy Evans Casper Ortega The Clean Up Crew