Live Event
Sat Mar 9, 2019
6PM - 10:30 PM CST
The Parkway Theater
4814 Chicago Ave Minneapolis, MN 55417
Our Online Art Auction is Now Open!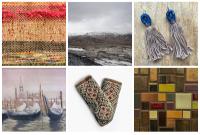 All proceeds support City of Lakes Waldorf School and allow us to continue providing exceptional education to our 293 students from preschool through 8th grade.
All of the items in our Art Auction have been donated by our talented and generous community. Click below to browse one-of-a-kind works including paintings, sculpture, photography, and more!
Stay Tuned! More items will be added online in the coming days.
Our Art Auction is currently on display in the First Floor Commons at the Whittier campus, with new pieces being added daily. Make sure to come inside the school to browse the incredible work of parents, faculty/staff, and friends of the school.
Online bidding will continue at our Talent Night event at The Parkway Theater on Saturday, March 9, with mobile bidding from your device.
Online bidding will close on Monday, March 11, at 8:00 pm.
Have you purchased your Talent Night tickets yet? This is an event you DON'T want to miss! Click here for all the details and to purchase tickets.