BOOKMARK THIS PAGE!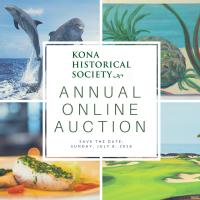 Kona Historical Society is continuing its work this year to preserve Hawaii's unique history and share it with school children, visitors and kama'aina through our living history programs, free lectures, historical jeep trips, a bustling archive and more.
To support all these things YOU help us do in the community, Kona Historical Society will be auctioning off a number of fun and unique items to bid on starting Sunday, July 8 at 9:00am HST (3:00pm EST), and running until Sunday, July 22 at 7:00pm HST (1:00am EST).
"REGISTER TO BID" now to receive email updates when the auction starts. You will see more items added to the auction as we get closer to the date so stop by often! All the items in this auction will be sold online. There is no live event so if you win the online bidding you win the item! Please bid and bid often starting July 9!
DONATE NOW! The more items we have the more money we can raise for our programs & projects, so we're asking for your help. By donating an item or service, not only will you be helping our small non-profit, you'll be receiving recognition through our promotions: emails to our members, contacts and former auction participants, posts on our Facebook page, write ups in our flyers and newsletters and announcements on local radio stations and in newspapers. We're literally contacting thousands of people! If you have a business, we will list a link to your business' website where the shoppers will be able to go directly from the auction website. And, of course, donations are tax deductible. Show your support by clicking on the "Donate Items" button, on the lefthand side of the page, to contribute to our catalog or call 808-323-3222.
Remember, that only with your help can Kona Historical Society continue to provide true cultural and learning resources in Hawaii.
Thank You To Our Diamond Sponsor
Kona Historical Society loves all our sponsors!
Would you like to become a sponsor?
Becoming a sponsor is different than just placing an ad. You're showing your community that you believe Kona Historical Society's mission to preserve, interpret and share the history of Hawaii is important. Your sponsorship also plays an important part in the success of KHS' exciting upcoming programs & projects that will serve thousands of students and guests providing unique, "outside-the-box" learning.
As a thank you for this support, KHS will place your company's logo on the auction site that links back to your own web page. Your logo will be on every auction email and mailing we send. Platinum sponsors get an added bonus of having their logo on our large auction banners.
Click here to become a sponsor today!
SPREAD THE WORD! The more items we offer or are bid on the more successful our fundraiser will be. Click on the "Refer Friends" button to give others the chance to get involved and have your name appear in our "Top Referrers" list.
SHARE IT! Each webpage has social media links so you can share your favorite items on your social media page.

Kona Historical Society thanks you in advance for your donations and your participation. We would also like to encourage you to support our donors and sponsors with your business. It's companies like them that help our community thrive!
Become a Sponsor
If you or your organization would like to become a sponsor please complete our simple form and we will contact you.