Donate Cash
Auction Links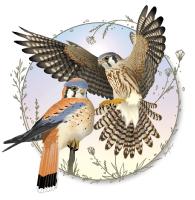 Welcome to the Party!!
It's a masked event - COVID Style!
Proof of Vaccination Required
We are excited to announce the 2022 Gala Dinner and Benefit Auction will be both online AND in-person!!!
Since COVID is a concern for many of our supporters, we are having a hybrid auction with the main event on February 26th, 2022.
MASKS AND PROOF OF VACCINATION WILL BE REQUIRED FOR THIS EVENT.
We take the privacy of your personal and medical information extremely seriously. If you provide proof of vaccination prior to the event, your information will only be viewed by select RMRP staff members and safely destroyed. Otherwise, proof of vaccination will be required upon entry to the event. Submit proof of vaccination HERE.
Starting on February 19, 2022, ROCKY MOUNTAIN RAPTOR PROGRAM will be auctioning off a number of fun and unique items to bid on to raise money for our organization - and the more items we have the more money we can raise, so we're asking for your help. You can learn more about donating items by CLICKING HERE.
Important Dates
January 1: Early Bird Tickets on sale for $80. Remember, tickets are capped at 300 for safety and health. When they are gone, they are gone!!
January 31: Last day for Early Bird Ticket Prices.
February 1: Last day to donate items. Advanced Tickets on Sale for $90.
February 12: Item Catalog will be available to preview.
February 19: General Catalog items available for bidding online.
February 21: LAST DAY TO PURCHASE TICKETS if any are remaining.
February 25: General Catalog Item bidding will end at 9pm.
February 26th
LIVE EVENT featuring the PREMIER CATALOG ITEMS
Premier Catalog (including items such as the Eggstravaganza Eggs, Live Auction Items, and other amazing items and services) bidding will open online February 26th, 2022 at 8am.
Doors open for the live event at 5pm for a fun cocktail and hors d'oeuvres hour. Dinner will be served at 6pm, with the program at 7pm and the LIVE AUCTION at 7:30pm.
Premier Catalog bidding will close online February 26th, 2022 at 6:30pm.
Premier Catalog items will continue to have in-person bidding at the live event. Only attendees at the live event will be able to bid after 6:30pm. Do you really love a Premier Item but can't attend? Be sure to bid high before 6:30! Premier Catalog item bidding concludes with the Live Auction at the Gala.
Book a Room
Enjoy a discounted room rate of $118/night when you book with our exclusive room block link when you book by February 19th. If booking by phone, you MUST let the booking agent know that you want to book in the Rocky Mountain Raptor Program room block to receive the discount. BOOK ONLINE NOW
Terms of Sale
Unless otherwise noted, all certificates for goods and services must be used within one year of the auction date. All items and services are subject to the terms and conditions specified by the donors.
All sales are final. There will be no exchanges or refunds. The Rocky Mountain Raptor Program (RMRP) does not make any express or implied warranties or guarantees on auction items regarding quality or value of items or services. All items are offered and sold "As Is" and "With All Faults".
The RMRP neither warrants nor represents, and in no event shall be responsible for the correctness of descriptions, genuineness, authorship, provenance or condition of the items. No statement made in the catalog or made orally at the auction or elsewhere shall be deemed such warranty for tax purposes or market value. Items have not been appraised unless otherwise noted.
Reservations for trips or vacation accommodations, and any services, must be mutually arranged with the donor, unless otherwise noted. No refunds will be allowed on travel packages for cancelled tickets and/or accommodations.
By the buyer's purchase, the buyer waives any claim for liability against the RMRP, its appointed officials, members, employees, sponsors, volunteers and/or donor of the item. Neither the RMRP, nor the donor, is responsible for any personal injuries or damage that may result from the use of the property or services.
Tax Rules

Appropriate sales tax will be assigned to taxable items. The amount you pay in excess of the fair market value would normally be available to you as a charitable contribution for tax purposes. Please check with your tax advisor for specifics. The RMRP will provide documentation of fair market value/charitable contribution after the raptors have dealt with the data crunching, post auction.
Live Event Details
Order Tickets
Sat Feb 26, 2022
5PM - 9PM MST
Fort Collins Hilton
425 W. Prospect Rd. Fort Collins, CO 80526
Add to My Calendar
Get Directions
We are excited to announce the 2022 Gala Dinner and Benefit Auction will be both online AND in-person!!!
Since COVID is a concern for many of our supporters, we are having a hybrid event on February 26th, 2022.
MASKS AND PROOF OF VACCINATION WILL BE REQUIRED FOR ALL ATTENDEES.
You can attend online or in-person. The in-person event will be capped at 300 so the event space will be roomy and everyone will have plenty of space to social distance. Bidding will be available online, and bidding at the event will be on your smartphone.
Can't be there in person?
Remember that bidding will be available right on this page, and the full program will be broadcast on our YouTube Channel.
Ticket Prices:
Early Bird (1/1/22-1/31/22): $80.00
Advanced Sale (2/1/22-2/21/22): $90.00
Preferred Seating Table of 8: $700.00
Gala Dinner:
Appetizers will be available during the cocktail hour from 5-6pm before dinner is served. All meals will include a winter greens salad with fresh blueberries, praline pecans, dried cranberries and feta with your choice of ranch or balsamic vinaigrette dressing (for a vegan salad, you will need to purchase the "Special Meal" option). Dessert is your choice of vanilla bean cheesecake or a flourless chocolate torte. Desserts are gluten free but not vegan.
Main Course Options: Full menu ingredients will be available HERE
All main menu items are gluten free.
Pork: Mustard crusted pork loin with a tarragon and mustard cream sauce
Chicken: Roasted chicken breast with lemon caper sauce
Both of the above meals come with goat cheese mashed potatoes and roasted carrots and asparagus
Vegan: Roasted squash, zucchini, mushroom and red bell pepper over a bed of wild rice and quinoa topped with a balsamic glaze
Alternative/Special Meal:
There is an additional $5 charge for special meals. If you have special dietary restrictions that are not covered by any of the meals above, a customized meal can be made just for you.
Become a Sponsor
This event is extremely important to the RMRP and our ability to achieve our mission. Our annual Gala and Auction provides nearly 20% of our yearly operating funds, plus is an opportunity for our committed donors and followers to celebrate the year's achievements, raptors, and the environment.
We hope that the Gala will also act as a way for you to promote your company, and to show how much you care about Colorado's wildlife and the environmental education the RMRP can provide. Your sponsorship can help save raptor lives and enrich human lives.
The Gala is our biggest event of the year. Being hosted virtually this year, your sponsorship will reach out to more people then ever before. We invite you to become the life of the party while saving lives in need.