Live Event
Mon Apr 23, 2012
5:30 PM - 7PM EDT
The Boston Harbor Hotel 70 Rowes Wharf Boston, Massachusetts
Top Bidders
mclarkri

$2,405

Plum2290

$935

bearjoseph

$930

GoldenSun

$702

erving

$699
The Boston Harbor Association's Online Auction is Now Open!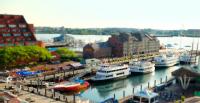 The online portion of The Boston Harbor Association's annual auction is now open and will run through midnight on April 22, 2012.
Thanks to your generous contributions to our annual auction, we are able to provide free educational programming to low-income Boston-area students while working to promote and protect Boston's world-class waterfront.
We encourage you to include in your online bid not only your current bid, but your incremental and maximum bids. That way your bids will be counted in the silent auction on April 23rd, even if you're not there to keep up with the bidding.
Auction items range from lush vacation getaways to Boston-centric outings, restaurants and original art. So, please, spread the word among your friends, family and community. Let the bidding begin!
Many Thanks to Our Generous Underwriters!
AUCTION WATCH: Featured Items
MANY THANKS TO OUR SPONSORS!
Below are links to our sponsors' websites. We encourage you to visit them and thank them for their generous support of our work.
Underwriters
Boston Harbor Hotel, Legal Sea Foods, Jay Cashman, Inc.
Benefactors
Boston Harbor Cruises, Cashman Equipment, The Castle Group, The Chiofaro Company, Clear Channel Outdoor, Eastern Bank, Equity Office Properties, The Fallon Company, Massachusetts Convention Center Authority, New England Development, Norwich Partners, O'Neill and Associates, P&G/Gillette, RDA Construction, SUEZ LNG NA/Distrigas of Massachusetts LLC, Synergy Investment & Development, Vanasse Hangen Brustlin, Inc.
Patrons
A Better City, ADD Inc., AECOM, Atlantic Beer Garden, AT+T, Au Bon Pain, Bay State Cruise Company, Bingham McCutchen, Blue Cross Blue Shield of Massachusetts, BNY Mellon, Bond Brothers, Boston Global Investors, Boston Properties, Boston Sand and Gravel, Boston Tea Party Ships & Museum, Cambridge Innovation Center, Cargo Ventures, CDM Smith, CH2M Hill, Channel Center, Childs Engineering, Collaborative Partners, Constitution Marina, Cresset Development, The Davis Companies, The Drew Company, Durand & Anastas Environmental Strategies, Eastern Minerals, Inc., Eastern Salt, Edwards Wildman Palmer LLP, Epsilon Associates, Foley Hoag LLP, Fort Point Associates, GEI Consultants, Inc., Goulston & Storrs, Greater Boston Convention & Visitors Bureau, Hill Holliday, Hines, InterContinental Boston, Intercontinental Real Estate Corporation, Jerry Remy's Seaport, John Hancock, John Moriarty & Associates, Law Office of Martha R. Bagley, P.C., Moran Shipping Agencies, Inc., National Grid, Northeast Gateway, NSTAR, Nutter McClennen & Fish, Otis & Ahearn, Paul E. Saperstein Co., Pyramid Hotel Group, Robert F. White Associates, Inc., Robinson & Cole LLP, Seaport Boston Hotel & World Trade Center, Skanska, Suffolk Construction Company, The Whiskey Priest
Sponsors
A.J. Martini, Inc., Arrowstreet, The Beal Companies, Berkeley Investments, Inc., Boston Boatworks, LLC, Boston Freight Terminals, Boston Harbor Pilot Association, Boston Line and Service, Boston Private Bank & Trust Company, Boston Shipping Association, Boston Storage Company, Boston Towing & Transportation Company, Bruner/Cott & Associates, Inc., CBT Architects, Channel Fish Company, Colliers International Boston, Coastal Marine Management/Boston Harbor Shipyard & Marina, Copley-Wolff Design Group, C. White Marine, Inc., Donoghue, Barrett & Singal P.C., ELV Associates, Inc. , EMCOR Government Services/Tillinger's Concierge, Entertainment Cruises, FedEx, Feeley & Driscoll, P.C., The Flatley Company, Flowers by Sreemoti, Global Oil, Green International Affiliates, Halvorson Design, Howard/Stein-Hudson Associates, James Hook & Co., LLC/Wholesale Lobster Dealers, Lafarge North America, Lee Kennedy Co Inc, Madison Properties, Massachusetts Development Finance Agency, Massport, ML Strategies, LLC, M.J. Bradley & Associates, National Development, National Park Service, New Street Realty Trust, Normandeau Associates, Inc., North Coast Seafoods, Parsons Brinckerhoff, Peabody and Lane Corporation, Pembroke Real Estate, Plymouth Rock Assurance Corporation, Quirk Auto Dealers/Fore River Shipyard, Rackemann, Sawyer & Brewster, Russo Marine, Salon Mario Russo, Schnitzer Steel Industries, Tishman Speyer Properties, Turner Construction Company, Weston & Sampson, Winn Family Charitable Foundation
Supporters
AIR Graphics, Edye and Bob Baker, Barkan Management Company, Inc., Boston Design Center, Boston Water and Sewer Commission, Brown Rudnick LLP, Buchanan & Associates, Cambridge Seven Associates, Inc., Casner & Edwards, Century Bank, Chadwick Martin Bailey, Commercial Lobster Company, Crosby Schlessinger Smallridge, Cushman & Wakefield, DiMella Shaffer, EcoLogical Solutions/Saunders Hotel Group, Emerson Investment Management, ESS Group, Inc., Fitzgerald Shipyard, Foss Maritime, Fulton Properties, FXM Associates, Green International Affiliates, Inc., Hacin + Associates, Inc., Haley & Aldrich, Inc., Harpoon Brewery, H.N. Gorin, Kearney, Donovan, & McGee, P.C., Kenney Development Company, Marriott Long Wharf Hotel, Massachusetts Water Resources Authority (MWRA), McDermott Ventures, Moran Shipping Agencies, Inc., Nauset Strategies, Nitsch Engineering, Nixon Peabody, LLP, Richard Burck Associates, Rubin and Rudman LLP, Sasaki Associates, SBLI, Sherin and Lodgen, LLP, Tom Palmer Communication, WilmerHale, LLP, Windhaven Investment Management
Get ready to bid!
This is the first year that TBHA is putting its silent auction on-line. While only participants in our annual Boston Harbor Celebration and Auction may bid on live auction items such as training fur seals at the New England Aquarium, anyone can take home our silent auction items.
Bidding is now open. If you're planning to come to our event on April 23rd, peruse the items ahead of time, place your first and last bids, and spend more time chatting with your friends at the event.
If there's something you don't want to miss, can't stand the suspense, or can't make it on the 23rd, all silent auction items have a "buy now" option, guaranteed to be no more than 75 percent of retail value. Shipping and handling is extra.
Bidding is open! Explore and enjoy!
Become a Sponsor
If you or your organization would like to become a sponsor please complete our simple form and we will contact you.