Live Event
Sat Sep 15, 2012
2PM - 8PM EDT
Our Live Event was a Great Success! We hope to have the online close-out completed soon...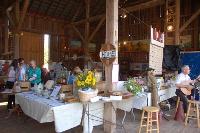 All winners will be notified by phone or email.
We're working on updating the online items, and coordinating pickups and shipping. Winning bidder will be contacted shortly. We hope to have this completed before the end of next week.
If you have any questions, you're welcome to contact us at auction@redwiggler.org.

Again, we'd like to take a moment to express our tremendous gratitude to everyone who helped make it a success.

Special thanks to:
All of our generous donors and sponsors

Everyone who participated and invited friends and family to celebrate our event


Our dedicated families, constituents and community of supporters

All of the volunteers who gave their time to make this a success

Red Wiggler Community Farm is truly grateful to our community and to all those who joined us at our Harvest Supper & Silent Auction and those who took part in our online auction as well. We thank you again for your generosity and for supporting our cause.
Our auction may have ended...but our important work continues.
As we progress with programs and services that benefit our mission, we sincerely hope that you consider staying involved:

Donate Cash Online:
Place a winning donation! It's easier to give, than to give up! If you did not win an item online and would like to show your support, please donate online.

Volunteer:
We recognize that giving your time can be just as valuable as monetary contributions. Join our dedicated team of volunteers. Send us an email at volunteer@redwiggler.org to learn about current opportunities.
The Auction May Be Gone, But Our Mission Goes On!
Even though our auction has ended, our organization and our mission have not. We would greatly appreciate your continued support in terms of time, effort and funding, and will do our best to keep you up to date on future activities.
Your support will help many important causes at Red Wiggler Community Farm in Germantown, MD.
Our work at Red Wiggler:
provides meaningful employment to adults with developmental disabilities and educates students and adults about farming and the environment.
generates sustainable energy and the operation of our solar home, where we are actually selling power back to the utility company!
produces healthy, locally-grown certified-organic produce (vegetables, herbs and flowers) which is both sold and distributed free to local group homes whose occupants often lack good nutrition.
ensures preservation of our environment through sustainable and organic farming methods, and provides habitat for endangered native animals and plants, such as the Baltimore Checkerspot Butterfly.
Thank you for your contribution! If you were unable to get the item you wanted and would still like to show your support for Red Wiggler Community Farm, you can still make a cash donation by visiting our website at www.RedWiggler.org/donate.
OUR CORE VALUES:
Just as the red wiggler worm creates fertile ground where plants can thrive, Red Wiggler Community Farm creates a productive environment where adults with developmental disabilities and student volunteers can succeed at work, increase local food supply and support sustainable agriculture.
At Red Wiggler, our core values represent the ideals we believe in:
Reconnecting people with the source of their food and the local community.

Creating an environment of respect, cooperation, integrity and innovative thinking.

Ensuring purposeful work and equal treatment for all stakeholders.

Fostering opportunities for outreach and meaningful education of youth, adults and employees.

Building local food security for our community.

Being a catalyst for community collaborations and volunteerism.

Practicing environmental stewardship through sustainable farming practices and careful attention to watershed and habitat protection.

Conserving resources and reducing our carbon footprint through thoughtful decisions about our built environment, program development and energy use.