Live Event
Sun Mar 11, 2018
6PM - 10PM EDT
National Housing Center
1201 15th Street NW Washington, DC 20005
Donate Now
Welcome to the 2018 Purim Ball & Auction!
Shazam! Merciful Minerva! Avengers Assemble!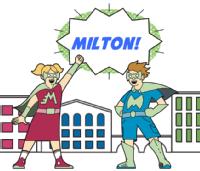 MILTON's annual Purim Ball and Auction brings more than 400 parents, alumni, grandparents, community members, and friends together to honor outstanding leaders, raise money for the Susan Koss Scholarship Fund, and support the stellar education offered at MILTON.
Celebrate with us, bid in the auction, and help us make this year's event a success!
Celebrating the leaders of today and tomorrow.
Mazal tov to our 2018 Honorees:
Kimby and Lawrence Berger
Kimberly and John Hasenberg
Cinthia and Horacio Rozanski
Sandy and Ted Schulman
With a special honor for Sharon Freundel
Thank you for supporting our school!
Milton Gottesman Jewish Day School of the Nation's Capital is an independent, community Jewish day school that offers a dual curriculum of General and Judaic studies for students in Pre-Kindergarten through Grade 8. The school is coeducational, and welcomes students from the entire spectrum of Jewish observance. For more information, visit www.miltongottesman.org
A glimpse into who we are, and how we're building the future:
MILTON Students...
Are encouraged to wonder, experiment, and follow their curiosity. They engage with the world locally and globally and are prepared for life - academically, socially, and spiritually.
MILTON Faculty...
Create an environment of academic excellence and challenge. They guide each child's experience to ensure that action is balanced with reflection and mastery of core concepts.
MILTON Community...
is vibrant and pluralistic by design. We believe that many voices and opinions, beliefs, backgrounds, and experiences enrich us all.
GOOD FOR A GROUP - Plan ahead and gather your friends for bidding on these great items!
Become a Sponsor
If you or your organization would like to become a sponsor please complete our simple form and we will contact you.