BGHP Hope & Holidays in Humboldt On-Line Auction is Now Closed!
Your Participation Makes a Difference - THANK YOU!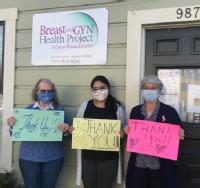 The Hope and Holidays in Humboldt On-Line Auction is now closed. We hope you enjoyed your auction experience!
Thank you to all the generous individuals and businesses who donated such special items and came aboard as sponsors.
Thank you to everyone who invited familyand friends to make their bid to help create hope and healthy cancer survivorship.
Thank you generous bidders for taking time to scroll, click and bid to support the Breast and GYN Health Project. Together we help people on California's North Coast who may face a breast and gynecologic cancer concern. You help provide hope, information and support! Thank you!
Congratulations to everyone who placed a winning bid
You will receive a confirmation email about each item for which you were the highest bidder.
If you are a local winning bidder - items are available for pick-up starting Tuesday, November 17th 9:00-5:00. We are open Monday-Friday from 9:00-5:00, but will be closed two days for Thanksgiving - Thursday, November 26th and Friday, November 27th. Special arrangements for pick-up can be made.
If you are an out-of-town winning bidder, we plan to begin shipping items starting Wednesday, November 18th. We plan to ship in flat rate boxes as much a possible. Please contact us with any special shipping instructions. We will contact you prior to shipping regarding shipping costs. Please feel free to call us at 707-825-8345 or email us at rosegz@hcbhp.org with any special instructions.
For more information about the Breast and GYN Health Project's mission and services, please check out www.bghp.org.
Special Thanks to Our Sponsors for their Support!
Here are some highlights from this year's auction
Become a Sponsor
If you or your organization would like to become a sponsor please complete our simple form and we will contact you.