Auction Links
Top Bidders
kh495b039

$2,535

rh698b8a0

$2,192

ss91b086c

$1,750

lm458a953

$1,233

sge432a91

$980

ht2916e8f

$960

mh0d8464c

$775

MGGS

$772

ir869581e

$590

verm

$590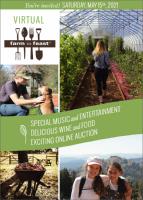 Summerfield Waldorf School and Farm's Farm to Feast 2021~ A Virtual Event May 15th at 6:00 pm.
Our spring fundraiser, Farm to FeastŪ, is a virtual community celebration that generates a large portion of the funds needed to support vital school programs, facilitates the payment of living wages to our teachers and staff, and allows the school to maintain a socioeconomically diverse school community.
Starting in May, Summerfield Waldorf School and Farm will be auctioning off a number of fun and unique items to bid on to raise money for our organization - your participation in this online auction is crucial to meeting our fundraising goal!




Our auction features our amazing and talented community!