Live Event
Fri Dec 1, 2017
5PM - 8PM PST
Guerneville Veterans Memorial Hall
16255 First & Church Streets, Guerneville, CA 95446
Top Bidders
cricker

$373

ClaraElse

$279

vgfe40ab0

$250

Merrile

$224

gdb6a2bd5

$210

da2495a53

$200

mrsbmurphy

$180

mkatzlaw

$165

ceresauction

$160

SBOLA1

$157
Stewards of the Coast and Redwoods
2017 Volunteer Celebration Auction

Nov. 10th - Dec. 1st, 2017

Your support helps Stewards volunteers and docents interact with over 110,000 park visitors each year!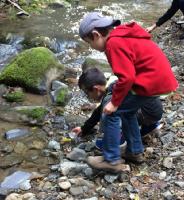 The online portion of our Volunteer Celebration Auction ends at 8 pm PST (11 pm EST) on Nov. 29th.
The auction will then carry over to our Annual Volunteer Celebration event on Dec. 1st.
If you have absentee bids we will assign someone to bid for you at the event.
Our work is as important as ever!
Stewards has been successfully operating Austin Creek State Recreation Area, an exquisite 5,700 acre wilderness area that serves over 300,000 people a year. We are happy to say that Bullfrog Pond Campground and our backcountry sites are now open year-round.


Stewards' Mobile Marine Education Van that we call our "Steward Ship" gives us greater visibility on Sonoma Coast and provide interactive activities for school children and park visitors to learn about the marine environment. Contact us today to reserve your visit!


Our work continues at

Pond Farm Pottery

with plans for an artist in residency program utilizing the on-site guest house – a program that will honor the legacy of world-renowned potter Marguerite Wildenhain. Other efforts include developing a docent program, and an exhibit at the Sebastopol Center for the Arts in 2018.


We are also proud to promote our Forest to the Sea Environmental Education program, a program that exposes school and youth groups to redwood ecology, the intertidal, watershed education, marine science and climate change curriculum as well as opportunities for citizen science and stewardship in our parks.
Our volunteers are a huge part of our success and your donation will help us recruit, train and support their dedication.
Thank you for supporting our work by donating today!
Become a Sponsor
If you or your organization would like to become a sponsor please complete our simple form and we will contact you.