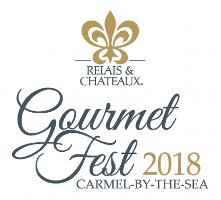 Online Auction Open! Let the Bidding Begin!
Our online charity auction features the amazing properties of Relais & Châteaux from all over the world. All of the proceeds from the auction goes to support the Carmel Chamber of Commerce, CSU Monterey Bay Hospitality Program and Cystic Fibrosis Foundation.
March 15 - 18, 2018
The Relais & Châteaux GourmetFest is a four day foodie extravaganza featuring an exclusive roster of Relais & Châteaux Chefs and the World's Best Wine Estates.
To buy tickets or explore our events, visit us at GourmetFestCarmel.com