Auction Links
Top Bidders
rka63fe83

$1,926

ab12bb763

$625

lde3e10c9

$600

rm00014d7

$525

tp388cd30

$425

md7791e83

$375

jf2ce9861

$375

jb379e401

$350

gw0b5bd22

$325

jgd93e229

$325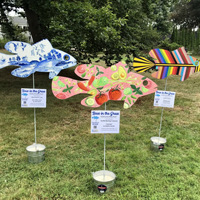 Beverly Main Streets - Bass in the Grass 2020
We are beyond excited to announce our inaugural Art in the Park event, called Bass in the Grass. Local artists are painting 31 large bass-shaped profiles. The Bass will be auctioned online, with the winning bid split between the artist and Beverly Main Streets. This project has been planned with safety and social distancing, artist support and downtown business support as our priorities.
Ways you can enjoy Bass in the Grass
After our event at Hale Farm, the Bass will be on display outside downtown businesses until September 18. Go to our website at https://www.bevmain.org/bassinthegrass/ for a list of locations. Each Bass will have a sign with details on the artist and sponsor so you can make note of your favorites.
View the Bass and bid online! The secure online auction will be held August 15 ? September 18. This is your chance to own original art and support a local artist. The auction can track your favorites and even auto-bid for you, so check it out.
Bass in the Grass - You can bid on 31 Bass!