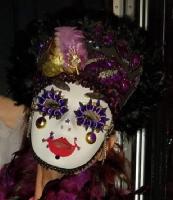 FINAL REDUCTIONS: Opening bid for most items with no bids, has been further reduced. Check out items, especially under Art and Services, for the new opening bids. Treat yourself or get a gift for someone at a great price. The holidays are coming up.
LAST DAY TO BID! DON'T MISS OUT ON SOMETHING YOU WANT. BID NOW AND BID HIGH!!

NEXT Village SF is a 501(c)3 non-profit in northeast San Francisco that is helping hundreds of older adults age in place and remain connected in their local community. We accomplish this with our friendly volunteers who lend a hand when needed and we provide social, cutural, and educational events to enrich and engage. During COVID-19 our focus was on keeping seniors, the highest risk individuals, healthy and happy as they quarantined at home. We succeeded!
Since March 2020, we provided 5,300 Volunteer Hours; 719 Grocery Runs; 2,400 Friendly Calls; 5,000 Lunch Deliveries; 170 Volunteers; and 500 Online Events
We are auctioning off a number of exciting and unique items to raise money for our organization. SOME OF THESE EXCITING ITEMS INCLUDE: Two stays with families in the south of France for 1 week and for 2 days; Sailing on San Francisco Bay for 4 people; A 3 night stay for up to 8 people at a home in Pope Valley, Napa County; Many restaurants, hotels, theatre and museum items, and much more!
THE AUCTION WILL END AT OUR HALLOWEEN MASK-ARADE BALL, OCTOBER 31 AT 7:30PM. BID OFTEN AND GENEROUSLY FOR A GOOD CAUSE. REMEMBER, ANY AMOUNT BID THAT IS OVER THE MARKET VALUE COULD BE TAX DEDUCTIBLE.
Live Event Details
Sun Oct 31, 2021
5PM - 8PM PDT
Outdoors at Piazza Pellegrini - Covered patio with good heaters
Columbus and Filbert, San Francisco
Add to My Calendar
Get Directions
Join us for Halloween In The Village, our 5th Annual Halloween Party Fundraiser
Sunday, October 31st, 5 to 8pm
Online Auction ends at 7:30PM
For auction information, CLICK HERE
For party information, CLICK HERE
DONORS - AUCTION 2021
Businesses Individuals
Al's Attire Anne Kubek
BAE Boats Anne Lichetnberger & Yves-André Bernabeu
Balletto Winery Anonymous
Bird & Beckett Barbara Blake
Blandina Farley's Fabulous Tours Bennett Chamberlain
Buena Vista Cafe Cathy & Howard Moreland
Capo's David Casuto
Club Fugazi David Grady
Club Quarters (CQ) Hotel Flicka McGurrin
Cole Hardware Gail Switzer
Da Flora Restaurant Gyongy Laky & Tom Layton
Dry Creek Vineyards Harsh Johari
Elias Bikahi Ian Meyer
Fairmont Hotel Janet Crane
Glow Yoga John Martin & Jennifer Feebairn
Jeffrey's Natural Pet Foods Karen and Nigel Williams
Kathy Burwell, OTR/L Kay Bradner
Kensington Park Hotel Kim Rotchy
Kleid Design Group Lew Reid
La Mar Restaurant Lucia Gonnella
Level 6 Shredding Luke Jasso
Lightsource Company-San Francisco Mary Reid
Little Vine Michael O'Shea
Margaret Jenkins Dance Co. Mike Berndt,
Mario's Bohemian Cigar Store Cafe Nancy Raabe
Merola Opera Redwing Keyssar
Metzker Family Estates Reid Rankin & Pauline Seddon
North Beach Gyros Rod Freebairn-Smith
North Beach Original Joe's Sadie Scott
North Beach Pizza Sandy Hunt
Oakland Zoo Sheldon Normand & Jenna Duley
One Market Thomas Ingmire
Perry's Harrison Ravazzolo
Petite Monstera
Piazza Pellegrini
Pier 23
Piperade
Pocket Opera
Psoas Massage + Bodywork
Saylor's Restaurant & Bar
Schramsberg Vineyards
SF Jazz Center
SF Performances
SF Playhouse
Sotto Mare - Laura & Rich Azzolini
St Francis Winery
Step By Step Downsizing
The Goff Financial Group
Tony's Pizza
Yasmine Mehmet
Yip Fitness
Z. Cioccolato