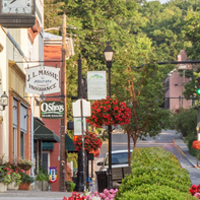 America in Bloom Benefit Auction Closing Soon!
New Items Added. Bid Now!
Here is your chance to visit some of America in Bloom's most charming cities and towns. Buy a unique travel package to immerse yourself in the beauty and hospitality that flourishes in AIB communities. Hosted by proud local IN BLOOM and AIB leaders, you will enjoy one-of-a-kind tours, meals and experiences.
To bolster your own community Bloom Rating or beautify your own yard, shop for exceptional plants like roses and tulips and planting essentials. Or purchase an expert community-coaching session by AIB board members and judges.
Just added are unique botanical and natural prints and photographs.
All these valuable items are donated by AIB sponsors and friends so your purchase fully supports our mission:
America in Bloom promotes nationwide beautification through education and community involvement by encouraging the use of flowers, plants, trees, and other environmental and lifestyle enhancements.
Shop now through October 8th and bid generously!
Make Your Bid to Support America in Bloom!
Shop now and bid generously to help us continue this vision:
America in Bloom envisions communities across the country as welcoming and vibrant places to live, work, and play - benefitting from colorful plants and trees; enjoying clean environments; celebrating heritage; and planting pride through volunteerism.